Unlike artillery, which once a field ops calls it on a certain spot cannot be controlled, the airstrike can and must be guided by the field ops. It's very simple. Consider the exact moment when the pilot of the airplane (which is supposedly going to drop the bombs) says "On my way!" or "Affirmative!". Now imagine a straight line drawn in the direction the field ops is facing on that exact moment, and a second line perpendicular to that first line and passing through the canister. The bombs will fall along that perpendicular line: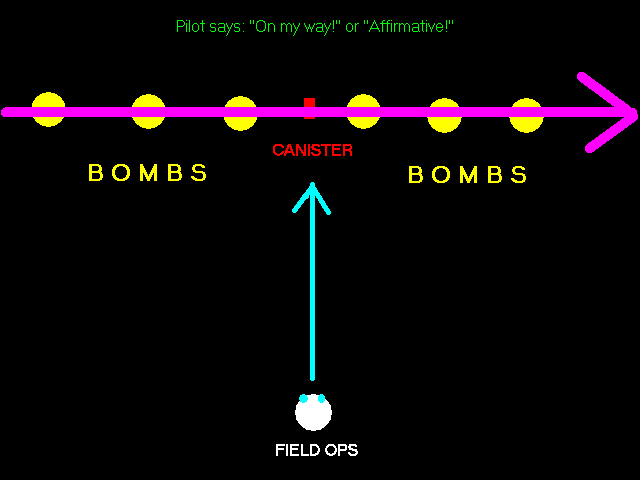 Now notice that the field ops doesn't need to be facing the canister. He might do something like this, for example:
That way, he is able to guide airstrikes even when he cannot see the canister or when he and his teammates are far from it (which is highly advisable). Besides, you must imagine the first line extending not only in front of the fops, but also behind him, with the line of the airstrike always crossing it in a straight angle. That makes something like this possible: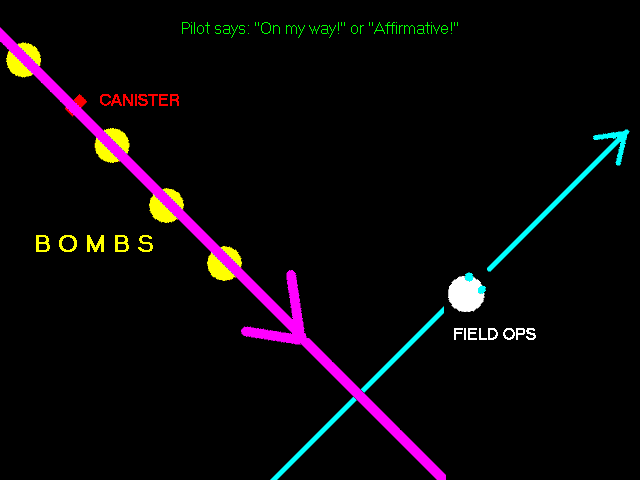 Important: the center of the bombing is determined by the position of the canister, even when the imaginary point where both lines cross is beyond the reach of the airstrike. Also remember that, depending on the fops skill level, there might be a second bombing roughly along the same line as the first one but in the opposite direction.
P.S.: no need to congratulate me on my extremely skilled artwork.