I've explained in very simple terms what the "loudness war" is in my Amazon.com review of Iron Maiden's latest studio album, "The Final Frontier":
Another shameful "loudness war" production

, April 24, 2011

But I want to listen to Iron Maiden LOUD", you cry. Of course you do, and so do I. But that means YOU turning up the volume on your sound system till it's loud enough for your taste, instead of listening to a recording which was so poorly mastered that its sound waves have simply been "clipped" (cut off) and its audio distorted because the volume was set so high that it exceeded the CD-Audio specifications. That's what the "loudness war" is all about - in an attempt to make buyers think they are getting a better product because it sounds louder, they are actually offering you a badly mixed, distorted recording with parts of the audio just NOT present on the CD. That was the case with most Iron Maiden's "enhanced" re-releases, but in those cases you could still get the original CD releases. Since this is a new album, there is no alternative, my friend - you are going to have to listen to a distorted recording with poor dynamic range and parts of the audio missing. This CD has 2969 clipped samples on the left channel and 2116 clipped samples on the right channel - that is, at those points, the sound wave volume level was pushed above the CD-Audio specification limits and was cut off - like a hill that had its top flattened out. Since Iron Maiden has long had full control over their productions, it's hard not to blame the band for this shameful release, technically speaking. As a long time, die-hard fan, I feel disrespected and betrayed by them.
Below are a few essential site links and video examples of the loudness war. I've never met anyone who didn't like music, no matter what style, so read these texts, watch these videos and spread the word on the loudness war as much as possible.
Turn Me Up! Bringing Dynamics Back To Music
Dynamic Range Day - Dynamic music sounds better - NO MORE Loudness War!
Wikipedia - Loudness war
Unofficial Dynamic Range Database
The Death Of Dynamic Range
LAST.FM - The Death of Dynamic Range - people against Loudness War (join them!)
YouTube - The Loudness War
YouTube - Another Loudness War Example
YouTube - Curmudgeon by Nirvana (1992 vs. 2004)
YouTube - Loudness Wars versus Michael Jackson - Loud Loses!
YouTube - Fighting The Loudness War (Iron Maiden examples)
A few CD's tagged on Amazon.com as "victim of the loudness war"
IRON MAIDEN - Powerslave
First CD editions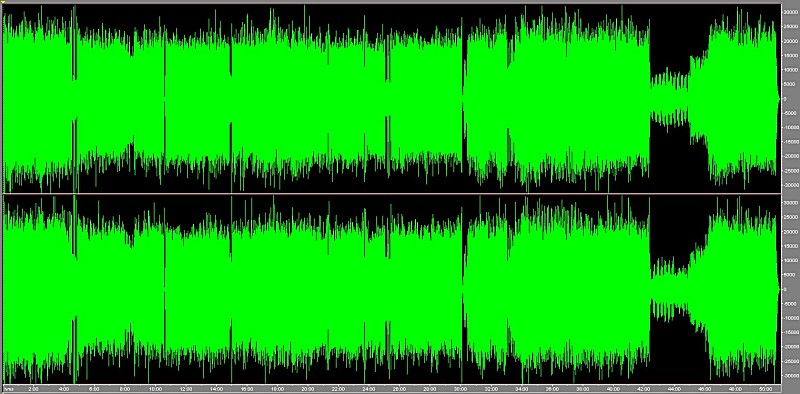 Remastered, enhanced, etc. editions