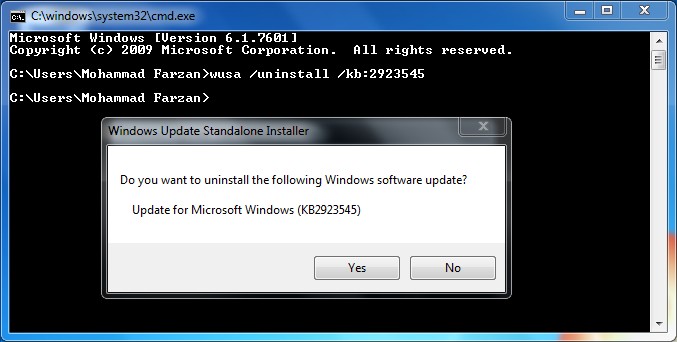 How To Uninstall Microsoft's Spy Updates From Windows 7/8/8.1
Back at the beginning of this month, we reported about how Microsoft has planned to spy on its users by releasing their latest operating system Windows 10. Many didn't know that this latest version of Windows has a capability to silently capture and send user data to Microsoft servers, without user's consent. (...) But it seems like Microsoft's goal to snoop on its users is so strong that they have now released several updates for their older versions of Windows that provide them with a capability to spy on Windows 7, 8 and 8.1 users too. The two recent Windows updates having the identification numbers
KB3075249
and
KB3080149
grant a capability to Windows to capture and send your data to the company's servers. So, once both of these updates are installed on your computer, then Microsoft may possibly spy on you in a similar way Windows 10 does, and all your data will be sent to Microsoft servers.
That is not all. Privacy-conscious users of Windows have pointed out that there are numerous other updates released by Microsoft that either grant the company access to your data or forcefully updates your existing version of Windows 7, 8 or 8.1 to the latest operating system release, Windows 10:
http://www.sevenforums.com/general-disc ... ost3127044
If you want to stick to Windows 7, 8 or 8.1 and want to remain untracked then we recommend that you stay away from the following updates:
KB971033
KB2505438
KB2506928
KB2545698
KB2592687
KB2660075
KB2670838
– Breaks Aero functionality and gives you blurry fonts on some websites. Prerequisite for IE10 and IE11 though.
KB2726535
KB2876229
- Installs Skype but changes your browser settings. If you use Skype, download it
here
.
KB2922324
KB2923545
KB2952664
KB2970228
KB2976978
KB2977759
KB2990214
KB2994023
KB3014460
KB3015249
KB3021917
KB4530734
- "Out of support" popup.
KB3022345
- Replaced by KB3068708 Telemetry
KB3035583 - Windows 10 AKA Squares 10 downloader -

DO NOT LET THIS ONE DOWNLOAD !!!
KB3044374
KB3050265
KB3050267
KB3065987
KB3068708
- Telemetry
KB3075249
KB3075851
KB3080149
KB3170735
KB4012218
Blocks updates on systems using AMD's Ryzen or Intel's Kaby Lake CPUs.
KB4012219
(same as above)
KB4493132
"End of support" nag popup window.
KB4524752
"End of support" nag popup window.
KB4530734
Intentionally causes various bugs including infinite reboot loop.
If you are still using Windows 7 or Windows 8 and want to keep your data away from the access of Microsoft then we will highly recommend you to stay away from the above-mentioned updates. But you must be curious to find out if the above updates are installed on your computer. Don't worry, head over to the next section where we have a step by step guide to finding out whether these updates were installed on your computer, and if they are then how to uninstall them.
(. . .)
Read the rest of the article on the original site for the update removal procedure. Note that the the article's author chose to use the Command Prompt instead of the normal uninstall method because some of these updates simply will not show on the list of installed updates.
https://www.hackread.com/microsoft-upda ... 7-8-users/
IMPORTANT: after you uninstall these updates, the next time you check for updates they will show up again. To avoid reinstalling them by mistake, right click on each of them and select "hide update".
Sources:

HackRead
SevenForums